Government IP Concerns
National Government Intellectual Property Concerns Law Firm
IP Government Contract Legal Services Based in Colorado Springs
Contracting with the government is complicated enough by itself. Throw in the complex rules governing intellectual property and prime/subcontractor relationships, and the legal terrain quickly becomes riddled with pitfalls for the untutored.
At Martensen IP, our attorneys routinely address intellectual property issues with respect to government contracts and the interaction between subcontractors and prime contractors. The attorneys at Martensen IP have personal experience with federal contracting and intellectual property law. Said simply, we know your customer.
Extensive Government Experience
Our team collectively has decades of hands-on experience within the government as warfighters, program managers, and procurement officers. This depth of expertise greatly benefits our clients as they enter into contracts with the federal government. As an additional resource in support of Martensen IP's government contracting work, Michael Martensen retains the capability of reviewing and analyzing sensitive government information.
Many clients who approach Martensen IP for legal advice understand that it is not unusual for a federal government contract to result in complex intellectual property issues for the contractor. Making the right decisions early is critical to preserve a company's value, even when the government is the client's primary (or only) customer.
Martensen IP works with startups, emerging companies, and established organizations seeking to protect and commercialize intellectual property developed in the course of fulfilling these government-funded contracts. The firm also advises clients with respect to the legal requirements involved in characterizing pre-existing products as IP prior to entering into a government contract.
IP and Government Contracts: Protecting Your Rights
Martensen IP ensures that the technology that clients have developed for the government remains their property and is available to them for commercial development after and during the fulfillment of the government contract. The laws concerning intellectual property for the government and for the commercial sector, while related, are arguably two different systems. We know how to tailor this legal advice to our clients.
Big ideas become big successes when they are secured, protected, and put to work.
---
For more information from our government IP concerns lawyers, contact us at (719) 358-2561.
---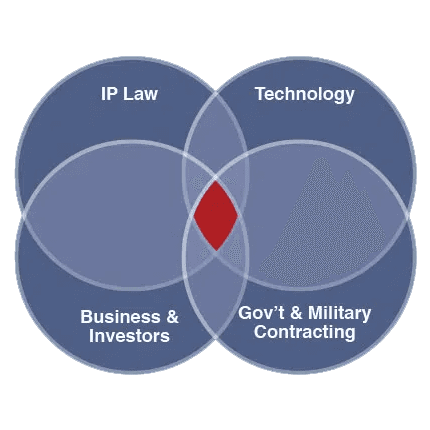 "Keen ability to target and successfully capture IP concepts for further development."

David Bruemmer, 5D Robotics

"Navigated our patent applications from complex technology to award. Mike's global associates helped inform and execute our global strategy."

Julie Zinn, Spirae

"Trusted counsel who distills complex technology and legal matters into simple terms."

Richard Kinsman, TERSUS
Our Values What Our Work Means
We Maintain A Record of Success in Achieving Patent Coverage

Every attorney has 20+ years of experience and has drafted and prosecuted hundreds of successful patent applications.

We Function At The Intersection Of Business, Law And Technology

Our experience and knowledge converge at the intersection of intellectual property and government contracting. We are uniquely positioned not just as a provider of technical counsel, but also as part of business advisory teams.

We Provide Superior Legal Guidance and Value

Experience in numerous business and engineering disciplines creates a knowledge base that makes it possible for our attorneys to assist clients in situations where IP legal advice only makes sense if placed within the context of a client's complete business strategy.

We Develop Strategies to Enhance Competitive Advantage

We come up with great IP strategies to enhance our client's competitive advantage but recognize that the technology will change, the environment will change, the competition will change and so will our plan; we're ready.
Contact Our Offices
Whether you have questions or you're ready to get started, our legal team is ready to help. Complete our form below or call us at (719) 358-2561.